---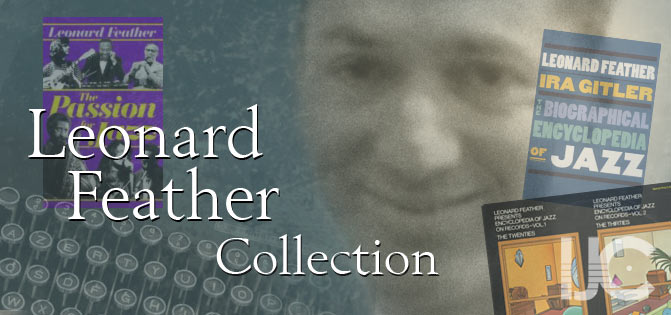 Career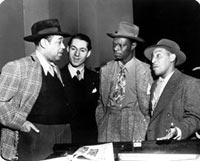 (L to R) Duke Ellington, Leonard Feather, Nat "King" Cole, and Johnny Hodges
Feather's love affair with jazz spanned six decades. His unique position as a journalist, composer, and arranger allowed him to witness and document the inner mechanisms of the jazz industry and the humans behind it
First, Feather was not, by his own admission, much of a businessman. This is not to say that he was prone to making questionable choices, only that his motivations were not monetary. He did not exploit artists or their music in order to make a profit. Indeed he had a hard time understanding the nuances of the music business in the beginning and the extent of the abuse of musicians. Leonard Feather was more interested in jazz as an art and a creative process, with little regard for potential profit or berating from potential critics. He lamented the times when recordings were locked away in a vault or masters were destroyed, not so much because of the lost money or recognition, but because the music would never be heard by the public.
Feather was not an artist manager. When he was once characterized as a manager he thought, not only was he not managing others, but he could have used a good manager himself. Nonetheless, he consciously sought opportunities for his musician friends to take advantage of. He connected musicians and sat them in a studio together. Feather additionally worked to laud the works of female musicians. He included female instrumentalists as recording examples in the blindfold tests and produced a record with Una Mae Carlisle. He shared a close relationship with both Carlisle and Jutta Hipp-- female instrumentalists whose musical careers eventually crashed as a result of systemic sexism in the music industry.1
Even though Feather did work as a press agent from 1941 to 1943, he was never really a publicist. After less than three years he gave up his two remaining accounts, Duke Ellington and Lionel Hampton, and returned to his journalism work. In fact he later did not even like being reminded he worked in publicity. Aside from those three roles, Feather had a hand in almost every other aspect of jazz music: journalist, critic, arranger, producer, musician, author, teacher, and historian. He was a contributor to countless records, concerts, radio, television, movies, books, and periodicals.
Awards:
1964—First Grammy award given by National Academy of Recording Arts & Sciences for album notes (The Ellington Era)
1971—Nominated for an Emmy for producing 'The Jazz Show', a series seen on KNBC, Los Angeles
1978—Corporation for Public Broadcasting award for excellence in local programming on 'The Leonard Feather Show', KUSC, Los Angeles
1981—Citation from Mayor Tom Bradley and L.A. City Council at a banquet organized by Harold R. Udkoff to establish Leonard Feather scholarships at the Duke Ellington School of Arts in Washington, DC
1983—International Critics' Poll, Down Beat magazine: Lifetime Achievement award
1984—Awarded honorary doctorate of music at Berklee College of Music in Boston
1985—Greater Los Angeles Press Club Journalism award: Certificate of excellence in entertainment reporting, Los Angeles Times
1986—National Association of Jazz Educators award for fifty years of contribution to jazz education and journalism
References
1. Feather, Leonard G. The Jazz Years: Earwitness to an Era. New York: Da Capo Press, 1987. (pp 125-136) ↩