---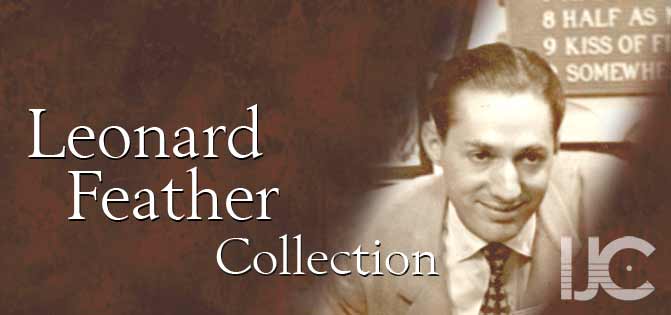 Broadcaster/Producer
Leonard Feather actively produced movies and radio and television shows. For most of his career he was almost continually on the air in one form or another. He was featured as a jazz expert on radio shows such as 'RCA Victor Show' and the 'Lower Basin Street Chamber Music and Jazz Society' program.
In 1940 Feather and Bob Bach created the show 'Platterbrains' that aired on WNEW and WMCA in New York. 'Platterbrains' was a variation on the program he had initiated earlier on Radio Normandy: listeners would send jazz music and recording questions and a panel of experts would try to answer them; segments of the records were played until they attempted a response. The show had regular appearances from Fats Waller, Gene Krupa, Glenn Miller, Jack Teagarden, Hazel Scott, Teddy Wilson, and Red Norvo.1 This programming was an excellent way to expose the public not only to recorded jazz music but also to the experts and artists on the panels. In the series' second year, Count Basie recorded the song 'Platterbrains' to be used as its theme, based on a Tab Smith original. The show ran for several years and was later revived in 1953. This time 'Platterbrains' was broadcast to a much wider audience on the ABC radio network and ran every week until 1958.
Another of Leonard Feather's early radio projects was 'Jazz Club USA' on the U.S. State Department's 'Voice of America,' which broadcast Jazz music and events around the world. Jazz music and news of events were being broadcast around the world. It exposed many people to jazz for the first time and established a large base of listeners, particularly in Eastern Europe and the USSR. Feather continued to work on the air as host, guest, and producer for the rest of his career. He was presented with the Corporation for Public Broadcasting award for excellence in local programming in 1978 for 'The Leonard Feather Show' broadcast on KUSC in Los Angeles.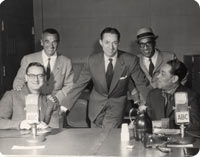 (L to R) Steve Allen, Gene Krupa, Leonard Feather, Sammy Davis, Jr., and Duke Ellington
In 1961 Leonard Feather was commissioned by executives at MCA to create 23 short films about jazz to be aired on German television. Since MCA was associated with Universal Pictures, the resulting series Feather on Jazz was built from a vast collection of footage, some of which had never been seen by the public. Feather noted that most of the footage was haphazardly stored in Paramount warehouses, much of the archived film stock was lost. The English versions of the narration, however, were never sold and were never seen in the U.S except for the few viewings arranged by Feather himself.2
Leonard had many other experiences with television. He served as a consultant for the NBC educational series 'The Subject is Jazz' in 1958 and was nominated for an Emmy in 1971 for the production of the KNBC series 'The Jazz Show'. Leonard Feather also was seen in or contributed to many television programs and acted as a movie consultant. His musical creations have also been used in recent films such as John Wick and Super Dark Times.3
Partial television list (via New York Times):
Benny Carter: Symphony in Riffs (TV Special, 1989) Role: Actor
Celebrating Bird: The Triumph of Charlie Parker (TV Special, 1987) Role: Actor
Duke Named Ellington (TV Special, 1987) Role: Actor
Long Night of Lady Day (TV Special, 1984) Role: Actor
Louis Armstrong — Chicago Style (TV Movie, 1976) Role: Technical Advisor
Partial film list (via New York Times):
Hollywoodland (2006) Role: Song
Blues Brothers 2000 (1998) Role: Song
The Cable Guy (1996) Role: Song
Swing Kids (1993) Role: Consultant
Bird (1988) Role: Consultant, Assistant
References
1. Feather, Leonard G. The Jazz Years: Earwitness to an Era. New York: Da Capo Press, 1987. (pp. 60-61) ↩
2. Ibid, (pp 233) ↩
3. John Wick (2014) featured the song "Evil Man Blues" written by Leonard Feather and Lionel Hampton. Super Dark Times (2017) featured the song "Standing Outside a Broken Phone Booth with Money in My Hand" written by Leonard Feather. ↩