---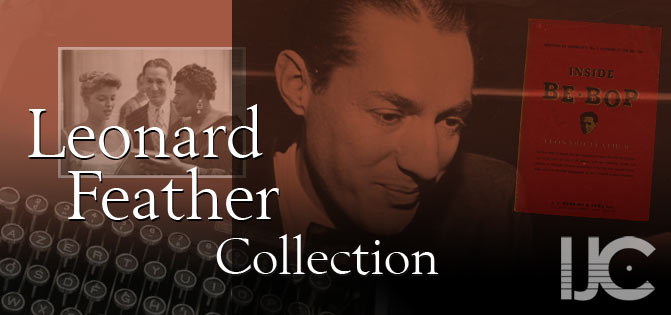 Musician/Composer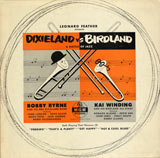 Cover of LP, Leonard Feather presents Dixieland vs. Birdland
Though Leonard Feather was a talented musician he was seldom recorded. This was partially because of the Musician's Union regulations prohibiting the recording of non-members. Nonetheless, Feather was a prolific composer and lyricist; he recorded over 100 songs and wrote the album notes for thousands of LPs. In addition he was an active arranger and producer. By his own estimation, his first quality composition was "Mighty Like the Blues" performed by Benny Carter, Coleman Hawkins, and George Chisholm in 1937.
Feather was innovative, very accepting of new sounds, and pushed the envelope in the evolution of jazz. In 1933 he sent a letter to the editor of Melody Maker asking why no jazz had been recorded in waltz or 3/4 time. The editor responded by saying "Asking for jazz in 3/4 time is like asking for a red piece of green chalk". Unperturbed, he continued thinking about the waltz time jazz. Suggesting the idea to Benny Carter they promptly recorded 'Waltzing the Blues'. The release caused quite a stir and much controversy. Eventually Feather was proven right and the new jazz variation was accepted, although it was almost two decades before waltz time jazz would not be seen as peculiar.1
The list of names associated with Leonard Feather's work is both long and distinguished: Lionel Hampton, Duke Ellington, Benny Goodman, Fats Waller, Count Basie, Charlie Barnet, Charlie Parker, Sarah Vaughan, Dinah Washington, Billie Holiday, George Shearing, and many others. Some of Feather's most well-known songs include 'Evil Gal Blues', 'Blow Top Blues', 'Dinah's Blues', 'I Remember Bird', and 'Twelve Tone Blues'. Possibly his greatest hit was 'How Blue Can You Get' first performed by Lois Jordan and B.B. King. Leonard Feather also penned a great many more, lesser-known songs such as "Get Rich Quick" and "Taxi Blues."2 On October 16, 1951, these songs were the first ever recorded by a teenager named Richard Penniman, later known as Little Richard.
While his accolades as a formal composer are evident by the calibre of musicians he wrote for, he also played a massive role as a producer who could step in with compositional advice. From the time he arrived in New York he was able to sit in recording booths with Benny Carter, Fats Waller, and Benny Goodman. When he moved to Los Angeles he produced Charles Mingus's studio album, Pre-Bird.3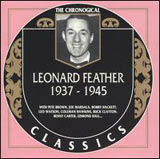 Cover of LP, Leonard Feather 1937–1945
Partial discography: 4
1937-1945: Leonard Feather 1937-1945 (Classics)
1951: Leonard Feather's Swingin' Swedes (Prestige)
1954: Dixieland vs. Birdland (MGM)
1954: Cats Vs. Chicks (MGM)
1954: Winter Sequence (MGM)
1956: West Coast vs. East Coast (MGM)
1956: Swingin' on the Vibories (MGM)
1957: Hi-Fi Suite (MGM)
1957: 52nd Street (VSOP)
1958: Swingin' Seasons (MGM)
1959: Jazz from Two Sides (Concept)
1971: Night Blooming Jazzmen (Mainstream)
1971: Freedom Jazz Dance (Mainstream)
1971-1972: Night Blooming (Mainstream)
1972: All-Stars (Mainstream)
1997: Presents Bop (Tofrec)
References