---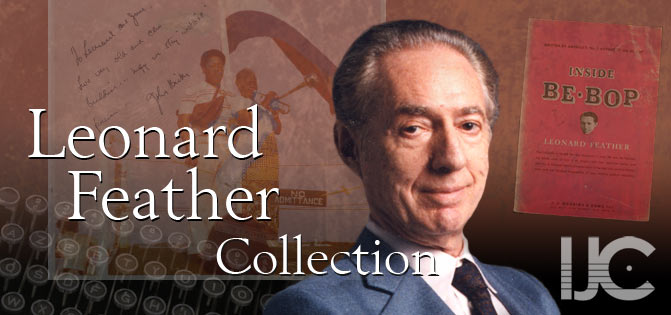 Author/Historian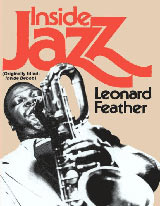 Inside Jazz, originally titled Inside be-bop
Leonard Feather was an influential author, historian, and teacher. In his controversial 1949 book Inside Bebop (later retitled Inside Jazz) Feather promoted the new form of jazz characterized by fast tempos and interweaving harmonic enclosures. It contained numerous biographies of relevant musicians and provided a technical analysis of the music. Eventually accepted by traditionalist critics, Inside Bebop helped to establish the new form of jazz as well as the careers of Sarah Vaughan, Charlie Parker, and Dizzy Gillespie.1
He is perhaps best known as the author of the 1956 book, The Encyclopedia of Jazz. The book not only was a "who's who" of jazz music, containing information collected via questionnaires from musicians all over the world, but also presented readers a thorough, multidimensional analysis of the genre. Updates and reprints of the work would be published for the next four decades. The Biographical Encyclopedia of Jazz was co-authored with Ira Gitler and released posthumously.
Leonard Feather also organized classes and lectured about jazz and jazz history in a higher education setting. In collaboration with Robert Goffin, he organized the first classes devoted to the history and analysis of jazz.2 The classes were offered at The New School for Social Research in New York beginning February 4, 1942. In later decades he lectured at schools including North Texas State University, Berklee College in Boston, and many others. After his relocation to California, Feather spent time lecturing at many of the University of California campuses.

Partial bibliography
1949: Inside Be-bop (J.J. Robbins)
1956: The Encyclopedia Yearbook of Jazz (Horizon); 1993 reprint (Da Capo) ISBN 0306805294
1966: The Encyclopedia of Jazz in the Sixties
1977: Inside Jazz (Da Capo) ISBN 0306800764
1977: Pleasures of Jazz (Delacorte) ISBN 0385287860
1987: From Satchmo to Miles (Da Capo) ISBN 1417618922
1987: Encyclopedic Yearbook of Jazz reprint (Da Capo) ISBN 0306762897
1987: The Jazz Years - Earwitness to an Era (Da Capo)
1988: Book of Jazz (Horizon) ISBN 0818012021
1999: The Biographical Encyclopedia of Jazz co-written with Ira Gitler, second (revised) edition (Oxford University Press)
Bibliography taken from The New Grove Dictionary of Jazz, pp. 747.
References