---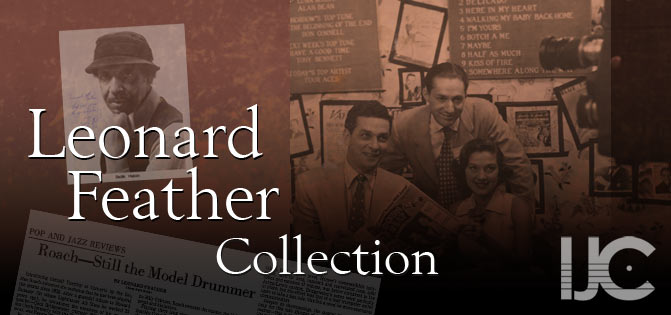 Journalist and Critic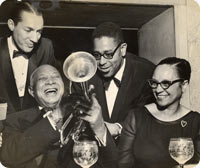 (L to R) Leonard Feather, W.C. Handy, Dizzy Gillespie, and Irma Handy
Feather is best known as a jazz journalist and critic. He wrote throughout his life for a wide variety of publications, including Downbeat and Esquire, before moving to California and becoming a regular jazz columnist for The Los Angeles Times.
Another evolution of jazz embraced and promoted by Leonard Feather was bebop. There had been a war of words going on for years about what was and what was not considered to be jazz. The Esquire jazz polls heightened this debate and raised the ire of the jazz traditionalists, also known as the Moldy Figs. The Moldy Figs thought of jazz completely within the New Orleans style, any deviation was a perversion of the art form. Alongside Robert Goffin, he concocted a critique for the top jazz musicians at the time. Jazz artists were given gold and silver awards in an annual release of Esquire's Jazz Book. Winners from this issue were given a special performance opportunity in New York or Los Angeles with ticket sales benefitting the United States Military. The critique and subsequent awards fell in line with Feather's taste and opinions on the state of jazz, but eventually the competition fell out of favor with the musicians themselves. A letter was addressed to David Smart, the founder of Esquire, listing their concerns and confronting the obvious bias that the Jazz Book presented. This included the issue not publishing reviews of musician's critique and not giving enough spotlight to younger jazz musicians. The letter was signed by virtually every significant jazz musician at the time and consequently the annual issue was terminated.1
Feather's book entitled Inside Bebop helped frame the bebop movement as accessible to the general public and seasoned jazz critics, contributing to its eventual acceptance. Still the change came about slowly. After convincing RCA to record some bebop, Feather suggested that the name of the album should be Bebop. Even after they had already agreed to distribute the music they refused to use the name and went with New 52nd Street Jazz instead. The new style was eventually accepted but Feather had made enemies in the process. To make sure his work would get a fair review he had to resort to using pseudonyms, including using his friend Billy Moore's name in place of his own for "Buckin' the Blues" and "Blues at Marie Lou's."2
Feather later denounced his role as a publicist and critic. He devoted his time to disseminating the stories and opinions of jazz musicians as well as doing his part to tear down social barriers of gender and race. His blindfold tests, in which participants gave their opinions of music after listening blindfolded to a performance, helped to dispel many misconceptions related to race and gender.
References