---
Dizzy Gillespie Collection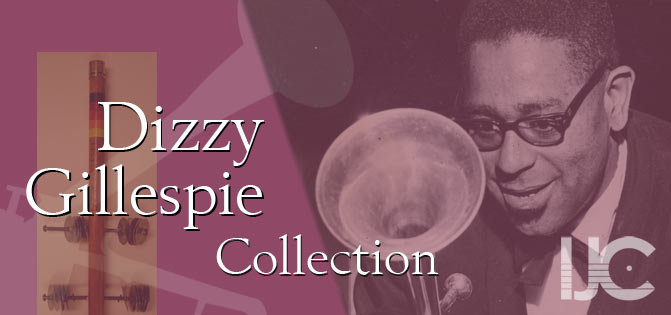 Extended Biography
John Birks "Dizzy" Gillespie was born on October 21, 1917 in Cheraw, South Carolina. Dizzy was the youngest of nine children. He started playing the piano at 4, trombone at 12, and the trumpet at 14. For the most part Dizzy was self taught. "Gillespie was born into a family whose father, James, was a bricklayer, pianist and band leader."3 Therefore trumpets, saxophones, guitars and pianos were at Dizzy's disposal. Tragically, Dizzy's father James died when he was just 10.
In 1935, Dizzy put his scholarly pursuits on hold at Laurinburg Institute in North Carolina on hold to move to Philadelphia to play in local groups. Dizzy joined the orchestra of Fran Fairfax in 1935, the orchestra of Teddy Hill in 1937, the orchestra of Cab Calloway in 1939, the orchestra of Ella Fitzgerald in 1942, and the orchestra of Earl Hines in 1943. During this period he acquired the nickname by which he has become universally known. "The name Dizzy resulted from his zestful behavior and was actually bestowed by a fellow trumpeter, Fats Palmer, whose life Gillespie saved when Palmer was overcome by fumes in a gas-filled room during a tour with the Frankie Fairfax band."1
"In 1937, Gillespie met his future wife, Lorraine, a chorus dancer at the famed Apollo Theater: they were married in 1940 and remained together until his death."3 During a party for Lorraine, another band member bent Dizzy's trumpet in such a way that the upward 45-degree angle of the bell allowed him to hear the notes sooner than before. Also if he was looking at a chart and was looking down the horn pointed toward the audience. He enjoyed the unexpected side effects of the bent trumpet so much that he later ordered a trumpet constructed similar to the bent design.
Dizzy Gillespie and Charlie Parker have been attributed with the development of bebop and modern jazz. "Dizzy appeared on a Lionel Hampton record date, playing a solo on a tune entitled 'Hot Mallets' which many observers believe to be the first recorded example of what would later be called bebop."1 In 1945 Gillespie formed his own big band, with limited commercial success, that showcased the concept of big band bebop as a form of jazz.
In the late 1940s Dizzy was involved with a movement dubbed Afro-Cuban music. It brought Latin and African elements into the jazz scene. One of his most famous songs contributing to this movement was "Manteca."
In 1956 during Dwight D. Eisenhower's presidency, Dizzy organized a band to go on a State Department tour of the Middle East, Africa, and Asia which earned him the nickname "the Ambassador of Jazz."2 Gillespie played using the bebop style for the rest of his career. In 1960, he was inducted into the Jazz Hall of Fame. In 1979, Dizzy published his autobiography To Be or Not to Bop. In the 1980s he led the United Nations Orchestra. 1989 was a whirlwind year for Dizzy as he gave 300 performances in 27 countries. Dizzy died on January 1993 in Englewood, New Jersey.
"In the history of the development of jazz trumpet, Gillespie's place ranked second only to that of Louis Armstrong."1 Gillespie's career rarely failed to show fresh thought, excitement, and exuberant vitality. Dizzy created a legacy for inspiring musicians to follow. This musical legacy is best summarized by him, "The Music of Charlie Park and me laid a foundation for all the music that is being played now…. Our music is going to be the classical music of the future."4
References